The hard to use CAD programs have a concept of layers in their design process.  This, as far as I can see, lets you work on inner and outer layers and give you better access to all the parts.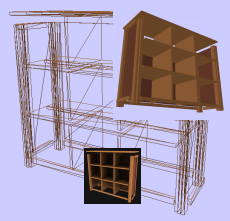 Like layers of an onion.
In the SketchList 3D cabinet design software layers are not used.  The problem with layers is, from an ease of use point of view, that you need to keep track the layer on which you put a part.  It can get confusing – at least I found it so when last trying to learn CAD.
In SketchList 3D you can design in levels or subassembly — door, drawer, assembly or project.  Each having a different level of detail.  Although many designs are accomplished with one assembly in a project.
But that does not directly address the need to see 'inside' a design.
There are three ways to accomplish this.  One is to explode a view of your design.  Two is to view your design as a wire frame — where you can see though all the boards.  Three is to delete a board as needed to take a peak inside — and do a control Z or undo action to replace the removed board.
You can see how to do this in the video –