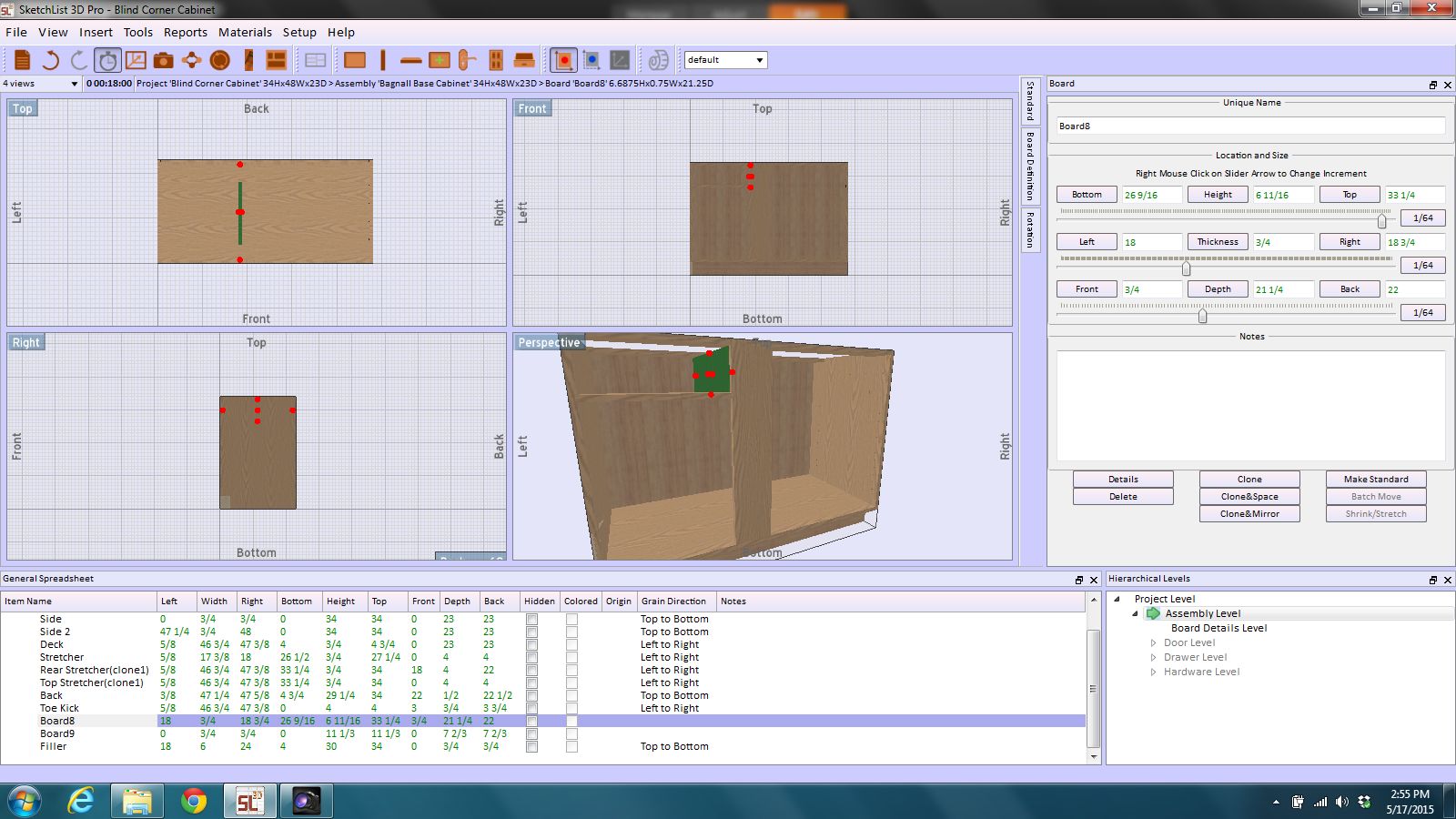 SketchList 3D Cabinet Layout Software.
Woodworkers want to create models using cabinet layout software. Models allow for exploration of alternative designs, testing different approaches, and visualizing of ideas.
Most people like to try things out before paying.  We understand this completely.
We developed this version of SketchList 3D for your testing purposes.   Pretty much the complete design capabilities are there – more than enough for you to do the following.
 Experiment with the included project to see how the tools work and learn the SketchList 3D approach of working with 3D virtual boards and containers.  This gives you an understanding and feel of the flow of the design process.
Delete the default project and design your own project from scratch.  With a few minor limitations (number of contours and joinery types) the full ability to design exist in this test version.
The goal of our trial program is to help you assess how SketchList 3D can help you with your woodworking designs.
The reports and most file operations have been disabled in this version – but when you click on these functions you will see a video that describe how they work in a full version.
People using the test version of SketchList 3D create sophisticated designs.  One contractor sold a job to build a bath room vanity using only the test version.  Funds in hand, he purchased the Professional version.
If you need more information to help make your decision to purchase – contact us.  Send an email.  If you include a phone number a designer will contact you to answer your questions – maybe even link computers online to show you.
With few exceptions – compared to the paid upgrade of SketchList 3D – this is a full function woodworking and cabinet design package.
Fine Print:  Optimizing, printing of shop drawings and images, importing and exporting projects, and all reports but the parts / cut list report are disabled.  The trial version allows designing one project at a time.  Starting a new project requires deleting the existing one.  Of course by saving key assemblies as standards in one project you can quickly insert them into any other project.
If when using the trial version of SketchList 3D  for your designs you try to use a disabled feature your will either be shown a video of how that feature works or a message describing it.
Download and try it now.