The 2D Images Report Dialog
The 2D Images Report dialog allows you to create a report containing two-dimensional drawings of the currently-selected project, assembly, door, drawer, or hardware.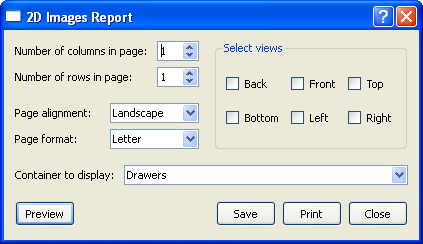 Use the options in the 2D Images Report dialog to specify how you would like your report to appear. You can specify:
The number of columns and rows per page, up to six each.
The page alignment: portrait (tall) or landscape (wide).
The paper size.
The views you want in the report. You must select at least one view.
The container you want in the report. You can choose the entire project, one of its assemblies, or a component&emdash;basically, anything except a board.
When you have finished setting up the report, you can do any of the following:
Preview it on your computer screen.
Save it on your computer as a PDF file.
Print it.
Related topics