The Project Information Dialog
The Project Information dialog allows you to enter information about the project you are currently working on. You can open this dialog by choosing Create New Project or Edit Selected Project in the Project Set-Up Wizard.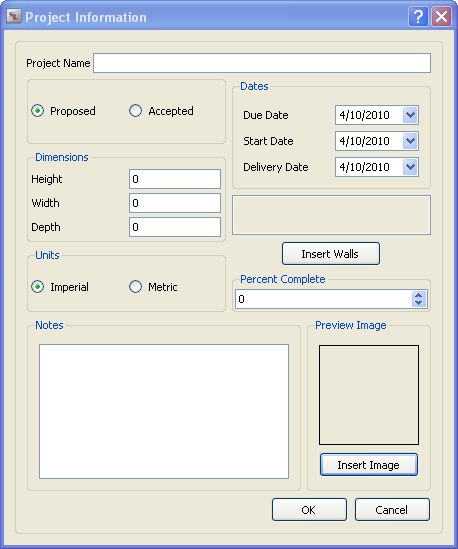 The Project Information dialog has the following panes. The Project Name and Dimensions are required; the other sections are either optional or default to a preset value.
Project Name. Enter a name for the project, or edit the existing name. The only requirement is that the name be unique. It's often helpful to include information such as the type of structure, the customer's name, the starting or due date, and so on.
Proposed/Accepted. Choose a status for the project. The default is Proposed.
Dimensions. Enter the total height, width, and depth of the structure you are designing.
Units. Choose Imperial or Metric. The default is Imperial. If you choose Imperial, enter all measurements in inches (not feet and inches).
Notes. Enter anything you'd like to remember about the project.
Dates. Enter the due date, start date, and delivery date.
Insert Walls.
Percent Complete. Use this field to keep track of the project's progress.
Preview Image.
Insert Image.
Related topics