Intuitive Cabinet Design Software for Savvy Woodworking Professionals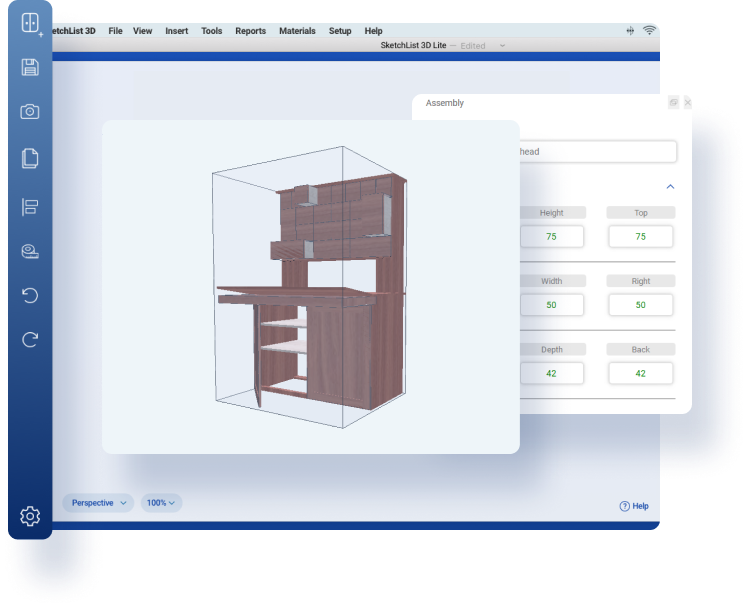 Your woodworking business needs a tool that can help accurately sell your designs to potential customers, provide realistic building plans, and allow you to make adjustments in real-time.
SketchList 3D is a cabinet building software that allows you to draw plans, reproduce recurring design elements, generate cut lists, shop drawings, and material layouts – all in one, streamlined location.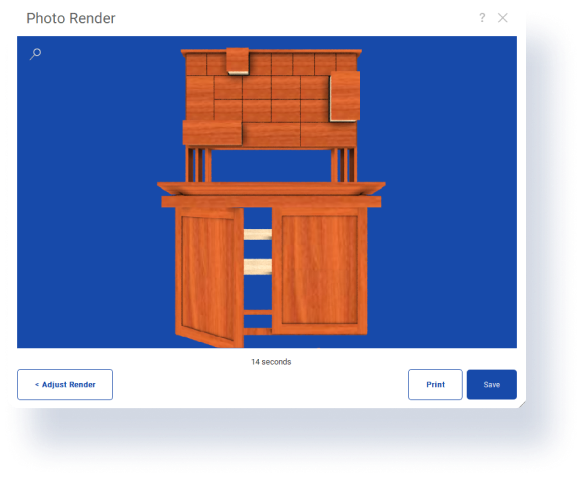 What is Cabinet Design Software?
Cabinet design software is a computer application that builds virtual project plans while also automatically calculating dimensions, materials, parts, and cut lists. Reports created by this tool help you assess possible issues at any stage of your work and allow you to make any necessary modifications that automatically adjust throughout the project.
SketchList is 3D Cabinet Software That Enables You to:

Build trust and confidence early on in a project with professional, appealing designs that reassure prospective customers that you are the right person for the job.

Designing a project virtually allows you to easily spot and avoid mistakes. Make design adjustments before making a single cut.

Cut proposal generation in half while still maintaining the same level of accuracy. Use the SketchList 3D optimized layout report to reduce scraps and the productivity tools to quickly make design changes and adjustments.

Produce high-quality before and after images for your website and social media with just a few clicks. These accurate reports and renderings can serve as powerful marketing assets across all relevant platforms.
A Look at Intuitive Cabinet Design with SketchList 3D V5
Professional Cabinet-Making Software
Let SketchList 3D take care of all of the meticulous project details! Our highly-specialized cabinet blueprint maker allows you to create detailed designs quickly and intuitively.


Specify dimensions down to 1/64 inch or 1 mm
Add joinery to boards with a few clicks
Add roman, cove, and bull nose contours (among others) by simply selecting the board edge and contour type
Perfectly align multiple objects in just a few mouse clicks


Assure objects precisely butt together with drag and snap features


Access unlimited species, colors, and grains of wood
Guarantee correct placement of adjoining objects with the copy and paste location functions


Import any image you need for your design
Calculate exact board placement with the clone and space feature


Design in metric or imperial measuring systems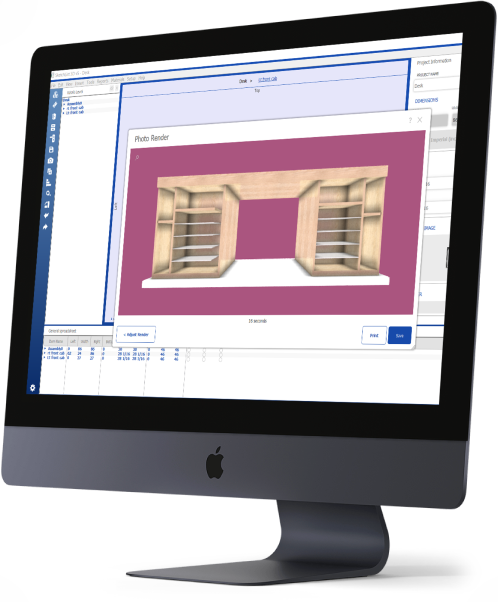 Cabinet Building Software Is What Your Business Needs
Making manual designs for cabinetry is quickly coming to an end. Now the market demands a more technological, efficient and time-saving approach.
The best cabinet design computer software has to be a tool that caters to the various needs of woodworking professionals. It must be full of useful features while still maintaining ease of use. It also has to be intuitive and offer online resources and training options to help you learn how to use its features.
What Makes SketchList 3D Version 5 The Best Cabinet Drawing Software?

SketchList 3D has it all! We know how important it is to learn the ins and outs of the new software that will soon become the core of your business. So we have a variety of free support services to help you succeed:






6 months free support for new users

THE SECRET FORMULA BEHIND OUR CABINET MAKER
We know that workshop cabinet design requires a higher level of attention to detail. That's why our user-friendly software allows you to:

Create precise, detailed designs with a few clicks

Easily change the size, material, and location of an object
Quickly add holes, joinery, contours, and more

Run reports to avoid mistakes and to share with customers

SketchList 3D enables you to better satisfy your customers!
Created by woodworkers - for all your woodworking needs!
Access fully-integrated designs and reports to make changes that instantly reflect in all reports and renderings.
Here's a look at some of the most popular SketchList 3D reports:

Produces a complete list of all parts in the project with sizes and descriptions

Allows users to view any change in the design through a detailed drawing

Lays out all the sheet and board lumber to reduce scrap

Generate a list of all parts within the project with detailed size and description
Create Custom Designs With Our Advanced Cabinet Software
Get in Touch with the SketchList Support Team
Start creating your first detailed kitchen cabinet design within a matter of days – not weeks or months, like with other design software.
We are here to help you get started with your first design! Let's chat online so we can walk you through a step-by-step introduction to SketchList 3D using the specifications of your client's next job!
Our users state that our support services allow them to avoid much trial and error when getting used to the new software. Join our community of woodworkers by downloading SketchList 3D now!