Intuitive Cabinet Design Software for Savvy Cabinet Makers
You need a cabinet design software that takes the pain out of designing.
Cabinetry design is no easy feat. It takes patience, time, skill, and an eye for design to make it look right while staying true to the vision in your head. This is made even more difficult when you're stuck using the mistake-prone pencil and paper method, or the overly-complicated software method not designed for woodworking – ahem AutoCAD.
With SketchList's intuitive interface and fast workflow, you can now focus your time on what matters most: the craft itself.
Design Challenges for Cabinet Makers are Real
How many times have you spent hours on a cabinet design only for it to be rejected by your client or missed the deadline?
CAD software that forces you to learn things that have nothing to do with woodworking and cabinet design can be frustrating and confusing. On the other hand, wearing out your eraser trying to 'edit' paper drawn designs is a sloppy, annoying drag.
If this sounds like you, it's time to make a change.
We Hear Your Frustration and We Have the Solution
Simplify your design process and take your work to the next level with SketchList's cabinet design software. Do more work in less time - quickly and easily produce stunning mock-ups, cut lists, and material layouts for any project type. Plus, get purchase reports on materials, so there are no surprises on materials.
Working with SketchList's cabinet planner, you can create stunning cabinet designs in just a simple three-step process:
Locating them in the design
Simple as that. A 3D rendering of your custom cabinet design will instantly appear on screen, and all your lists, reports, spreadsheets, and layouts will automatically be generated and ready to download.
All that's left now is to bring your design to life.
The Path to Next-Level Carpentry
Download and install SketchList 3D's free software 14-day trial.
Review our Video Tutorials
Walk through every step of the design process with our comprehensive video tutorials.
Start with a Basic Project
We'll be just a call, email, or text away, plus we have comprehensive supporting materials which will guide you along your way.
Attend the Weekly Workshops with the Experts
Every Tuesday night we explain SketchList's functionality and answer any and all questions about our kitchen design program.
Reshape the Way You Design
Looking for a professional cabinet design software that will help you go from drawing board to finished floor plan in record time? Look no further than our easy-to-use cabinet design program. We have helped thousands of satisfied customers save hundreds of hours and streamline their workflow. We guarantee that within days of spending a little time and effort with SketchList's cabinet software, you will walk away with confidence that you are making the best decision for your design needs.
Sign up for a 14-Day trial of our cabinet design software, Free of Charge! No credit card required.
Compatible with both Windows and Mac computers.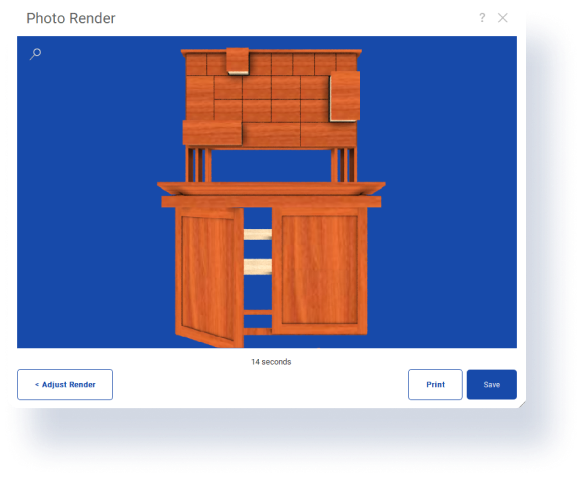 What is Cabinet Design Software?
Cabinet design software is a computer application that helps you create project plans, layouts and cabinet designs while automatically generating material requirements, parts layouts, and cut lists. It simulates the same processes you perform when cutting and assembling pieces in your workshop. This tool helps you assess possible issues at any stage of your work, and this allows you to make any necessary fixes. All modifications are automatically adjusted throughout all reports.
SketchList is 3D Cabinet Software That Enables You to:
CREATE AND USE STANDARD OBJECTS
Build trust and confidence with your potential customers early on in a project because the designs appeal to and tell them that you are the right person for the job.
Gain inspiration from our library of materials, objects, templates, and projects. You can also custom-build your own hardware, materials, boards, shelf units, entertainment centers, and more to save you time.
Designing a project virtually allows you to easily spot and eliminate mistakes. Make design adjustments for your cabinets before buying materials and, more importantly, before making a single cut.
Produce high-quality before and after images for your website, catalog, and social media with just a few clicks. These accurate reports and renderings serve as powerful marketing assets for use in any media.
Reports are automatically generated and modified as you develop your project. They provide complete parts and cut lists, shop drawings, estimate job costs, and material layout diagrams for your cabinets.
Cut proposal generation by more than half while actually increasing the level of accuracy. Use the SketchList 3D optimized layout report to reduce scraps and control job costs. Apply the productivity tools to quickly make design changes, adjustments, and maintain a cost-effective design process.
Compelling Cabinet Design Features You'll Find in SketchList 3D:
Let SketchList 3D take care of all of the exacting project details! Our cabinet shop drawing tool allows you to create detailed designs quickly and intuitively.


Easy-to-use software navigation
One-click contours, holes, joints, and lines


One-click sizing, cloning, spacing, and mirroring
Customizable and intuitive interface

Cabinet Wizard design tool to create and modify basic building blocks



Realistic project renderings
Export design files (DXF) for CNC machines


Automated cut lists report

SketchList 3D is the #1 Choice for Custom Designers. We Proudly Serve:







What Can You Make with SketchList?









The beauty of custom furniture design is that if you can imagine it, you can build it. And 3D modeling is the best way to bring your ideas to life!
It's Time to Power-Up Your Design Workflow
Cabinetry design has never been easier. In just a few clicks, you can create custom-made cabinets tailored to suit all of your or your client's needs.
It's time for something new: Sign up to take control again by designing furniture exactly how YOU want it.