The Best Furniture Design Software for Woodworkers Who ...
are tired of complex design programs that are hard to learn

are looking for a way to create compelling mockups of furniture designs without toiling for hours

want to develop a quick proof of concept that can be easily modified

If your answer is yes to any of these question, SketchList3D can help you. The right software makes designing furniture simpler than you think. Whether you want to build a basic console for your living room, a luxury bedframe for a client, or a one-of-a-kind closet for your kids, SketchList3D is the ideal tool to bring your visions to life.
SketchList3D is a powerful furniture modeling program that replaces pencil and paper drawing tasks with 3D building blocks. Instead of drawing line by line, just drag a 3D board into your design, adjust the dimensions, and place it in the correct position with SketchList3D's easy-to-use tools.
Designing in SketchList3D is as intuitive as working with your hands in your workshop.

Save time spent on tedious tasks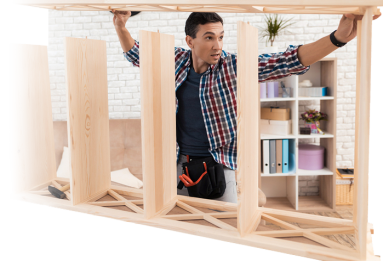 Get feedback on designs before building

Automate material lists and cost calculations

Give furniture custom touches
Custom Furniture Design for Every Function & Style
Cabinets and tables are the most common projects when it comes to wooden furniture design, but why limit yourself? Furniture can be anything from pieces made from old pallets to log benches cut with a chainsaw. SketchList3D helps you design:
The beauty of custom furniture design is that if you can imagine it, you can build it. And modeling is the best way to bring your ideas to life!
Approaches to Furniture Design
Design is the process through which a concept evolves into a firm plan, depicted in visuals and reports. A good design communicates the concept, aesthetic, and function of the piece. This process is progressive. Subsequent changes and variations improve upon the initial design, defining and refining the finished product.
There are 3 general approaches to furniture design, each with advantages and disadvantages:



Quality depends on your skill as an artist
Changes are time-consuming to implement
Hiring a professional artist is costly





Complex Furniture Design Programs
High level of detail
Ability to make changes
Optimal for specialized designs involving carving and spiral formations


Difficult to learn
Expensive

Time-consuming






Simplified Furniture Design Programs
Easy to learn
Fast and effective
Flexible
Based on lifelike 3D building blocks
Instantaneous changes and variations
Automated part and cut lists and cost estimates


Not optimal for specialized designs involving carving and spiral formations





Choosing the Best Furniture Design Software for You
With so many options on the market, it's difficult to know which furniture design software to choose. It is an investment of time and money to try multiple furniture design programs, so consider the following before downloading anything.

Any designer will tell you that furniture design software can have a steep learning curve. Many packages take months to learn to use effectively. User reviews offer candid insight into how long it took other users to master the software.

Assess what features are important to you to find software that suits your requirements. Are you looking for quick images to evaluate your idea or pitch to a client or do you need reports and drawings to communicate your idea with people in the shop?

Buying furniture design software is an investment; make sure you'll have the resources to take full advantage of it. Is there sufficient documentation and video training aides to get you productive? Is training available from the vendor? Are developers responsive to new feature requests from users?
Wooden Furniture Design with SketchList3D
SketchList3D users craft furniture of all shapes, sizes, and styles.
Wonder how your piece would look with a different tone or texture? With a few clicks, SketchList3D also allows you to try your design in different wood species or add components in stone, metal, glass, or leather. You can even add your own images into the design, or place the design inside a photo of its intended location. When you're satisfied with your creation, generate photorealistic images to share with family, friends, or clients for quick feedback!

What Makes SketchList3D the Best Furniture Design Software?
We'll let users tell you themselves…
"After an evening 'playing' with the software and watching a few video tutorials, I was able to effectively use the program. The User Interface is basically intuitive and easy to use. I could quickly work with boards in 2D or 3D instead of adding many lines using Cartesian coordinates… The 3D view also allows the user to rotate an assembly or the project to check perspective and parts placement."
"I looked for years for a design woodworking software program that would easily capture a design and enable modifications. I tried AutoCAD, DesignCAD, and SketchUp. I found all of these programs are very complicated, expensive, and carry a huge learning curve. SketchList has captured the best of these programs from a woodworker's perspective."
Join SketchList's Custom Furniture Design Community
See the latest inspiration from our workshop, and share your own creations with fellow woodworkers.





Get in Touch with the SketchList Support Team
Want to talk shop? Have questions about how to sketch furniture design?
We love hearing from you!
© 2020 SketchList3D. All rights reserved.