Top-notch Kitchen Design Software
Sketchlist 3D is a professional kitchen design program with a user-friendly drag and drop kitchen planner interface that allows you to instantly set joinery, contours, holes, angles, and board shapes. With SketchList 3D V5's custom kitchen design software, you can model a life-like dream kitchen beyond your clients' expectations.
SketchList 3D V5 in Action: Design Custom Kitchen Cabinets!
Kitchen design is an all-encompassing phrase. Custom cabinet makers know it isn't limited to just the layout but includes an extensive amount of cabinet design and construction details. That's not really news for those in the business. But what is new – is that getting away with selling jobs using your hand-drawn pictures for your proposals is the way of the past. Your customers demand high-quality images of the virtual kitchen design they are spending big money to get.
Years ago, that wasn't the case. In those days of hand sketches, or better yet – the contractor saying "trust me – I know what you want" got you jobs. No more. Each week more woodworking businesses are converting to computer-drawn images to help their sales efforts. As a result, they save time in proposal preparation, deal with changes efficiently, and present high-quality images and drawings. Add to that they have the reports necessary to purchase materials and get the job through the shop. They can deliver, install, cash the check and repeat. It is all easy and doable with the correct software.
As you well know, the success of your business depends on meeting your client's expectations, wouldn't you agree? Read this email from a SketchList 3D user:
"I got the order thanks to my craftsmanship & SketchList 3D! They told me they couldn't believe how fast I produced concept drawings of their new kitchen. They told me the other contractor had come back to see them. He had a pencil drawing of their new kitchen. They told him they were all set. I will do the final kitchen in the next 2-3 weeks, including the island. After I complete that I can send it to you. Take care and talk soon."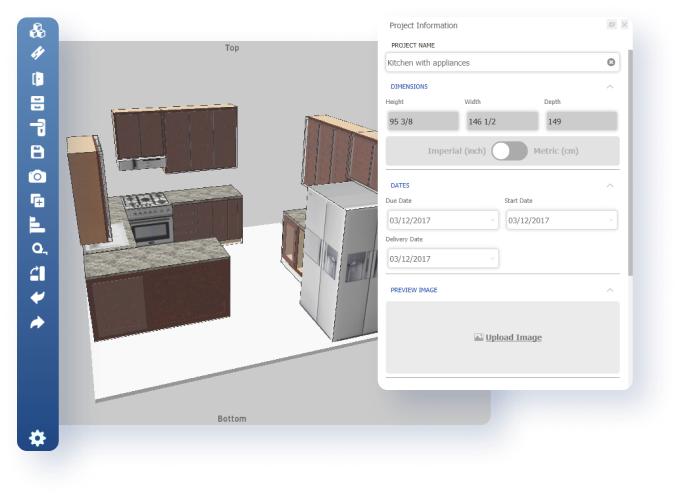 Designing A Dream Kitchen Has Never Been So Simple
Are you looking for a simple virtual kitchen designer tool with custom objects, colors, and materials? Don't look any further! Because SketchList 3D's ability to make advanced 2D and 3D photo renderings of cabinets, countertops and other appliances will help you create astonishing custom kitchen designs.
This means, with our professional kitchen design software, your customers can see the final product and sign off on it before you even schedule the job, buy the materials, or make the first cut. What if they don't like the size of the countertop? Or feel like they need some extra light in the room? Or need to add more storage requirements? No problem. With SketchList 3D, you can design your client's kitchen down to every detail.
SketchList 3D is the all-in-one tool that enables you to become a virtual kitchen designer in minutes.
Cabinets, Countertops, Furniture– Do it All With our Professional Kitchen Design Software

KITCHEN PLANNER TO CREATE PROPOSALS SWIFTLY

PULL TOGETHER KITCHEN DESIGNS IN MINUTES

EASY TO LEARN – NO NEED TO BE A COMPUTER EXPERT

REVISE WORKING PROPOSALS AND FIX PROJECT ERRORS

PRINT FINISHED CUT LISTS AND SHOP DRAWINGS IN MINUTES

CREATE ELEVATIONS AND FLOOR PLANS ALONG WITH DIMENSIONED DRAWINGS
Sketchlist 3D - The Best Kitchen Design Software in Action.
With SketchList 3D, you can design custom kitchen cabinets, pick suitable kitchen parts and components, create different kitchen layouts and shapes, and show your clients' dream kitchens as a reality.
What would it mean to your business if you could create a professional kitchen design in a half-hour? Sometimes less. Using our kitchen planner, you can do that in much less time and with greater quality images than possible with pencil and paper. Then ask yourself what effect that would have on your business.

Check out our kitchen design program demo to learn how simple it is to create renderings, pick tools, review design options, and change floor plans with SketchList 3D's drag and drop kitchen planner.

One Kitchen Design Software to Rule Them All
SketchList 3D is an end-to-end kitchen design tool. Changes automatically apply to your shop orders, cut lists, and material layout diagrams whenever you change your design. You can save hours on planning kitchen layout and home design, while creating impeccable floor plans.

Powerful kitchen design tools – become a virtual kitchen designer

Add contours and adjust kitchen layouts with a click of the mouse

Shop drawings created the way you need them.

Instant 2D and 3D view renderings – remember, good images is the key to selling jobs

Unlimited design options, wood species, grains, or material colors.

Part or cut lists and order reports allow you to buy materials and get to the shop in short order

Floor plans and elevations

MODIFY DESIGNS EFFORTLESSLY
It is important that you engage clients during the design process. Because the design is on the computer, you can share the first pass of your ideas with your prospects on your computer screen. In this day of remote meetings and busy schedules, you can present your ideas online. And as the prospect accepts, rejects, or modifies parts of your design, you can quickly respond to that feedback. Many changes take seconds and appear in interactive 3D visuals.
Of course, the process is interactive, with a series of changes bringing you to an agreement and a sale. Note that this type of interactive session with prospects has two additional benefits. One is that it deepens your relationship with that customer. Second is (and this is proven) that the client's involvement gives them a sense of ownership of the project. These two benefits are important to have in your back pocket when and if issues arise during the course of the project.
Minimal Learning Curve - 3D Kitchen Design Made Easy

Designing with SketchList 3D is like building cabinets with your hands. The thought process is similar to the one you've used all your woodworking life. And this is the main point - the software works the way you think. That means it doesn't get in your way but helps you do your job. At the same time, you do not sacrifice the amount or type of details in your job. The tools are all there to allow you to apply joinery, contours, holes, angles, and board shapes just as you want them.

DRIVE SALES WITH PROFESSIONAL RENDERINGS
Create designs with custom details quickly and insert them into photos and photorealistic backgrounds of your client's homes to bring their dream kitchen to life before their eyes.

SketchList 3D's purchase list reports calculate material costs, making it easy to create estimates and bid with confidence.
SketchList 3D is the #1 Choice for Kitchen Designers. We Proudly Serve: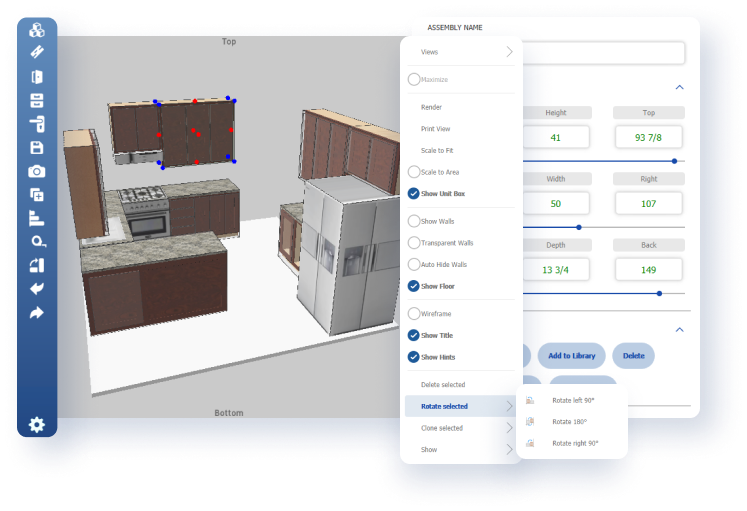 Thousands of professional kitchen designers and real estate professionals use SketchList 3D daily.
Our advanced kitchen planner design software was developed to reflect the way designers think and work in their day-to-day settings. That approach enables you to create your kitchen proposal from scratch and virtually build it out, board by board, cabinet by cabinet. Of course, you can pull cabinets previously designed from the library, adjust sizes as needed, and position them in your room layout. This increases the speed of the design process. Or you can go a step beyond and use the Cabinet Wizard to select, modify and place your cabinets.
The Cabinet Wizard is an add-on to SketchList 3D that automates the design of custom cabinets and furniture. This means you can design customer's cabinets in minutes.
With it, you can design a 'new cabinet' by selecting a cabinet style [drawer over a door, three-drawer stack, etc.] and enter the height, width, and depth. After that, you change the variables as needed [for example thickness of face frames, or clearances for drawer slides] and generate a cabinet. You can also use Cabinet Wizard to make doors and drawers.
Finally, you can just click the button to transfer the assembly to SketchList 3D. It takes literally seconds to design a cabinet.
Once you create cabinets, locate them in SketchList 3D to do the floor plan and elevations. If there are any truly custom changes required, you can make them with the SketchList 3D tools.
You can create any type of kitchen with our kitchen planner. If you need galley, u-shaped, l-shaped, or islands, the cabinets can easily be rotated and placed. No problem.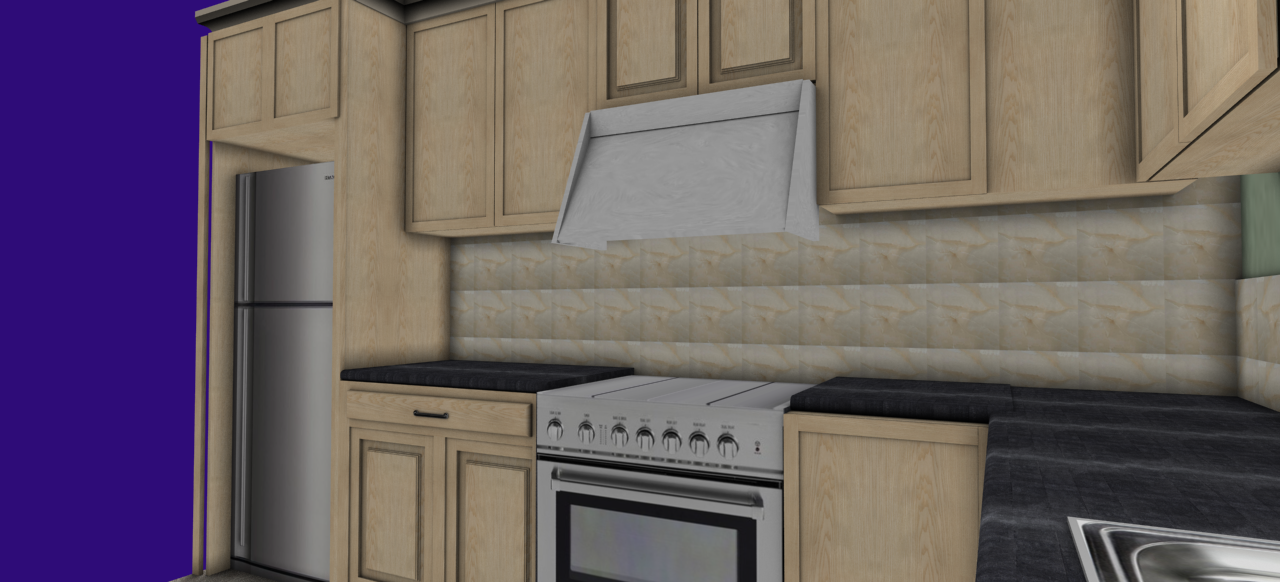 Best of all - we help custom woodworkers with kitchen design prospects to sell and deliver jobs. Time after time, users tell us sales increase and expenses decrease when using SketchList 3D. Check out one user story - click here.
Get in Touch with the SketchList Support Team
Connect with SketchList's Community of Professional Woodworkers!
Join the conversation with our kitchen design software users. Check out how our community of hobbyists and pros come together to discuss software tips, design inspiration, and our shared passion for interior design.