Simple 3D cabinet design software
SketchList 3D enables you to create designs for your custom cabinetry and woodworking business 
If you need to compete for sales, save time in preparing proposals and plans, generate cut lists, shop drawings or material layout diagrams – you need cabinet design software and SketchList 3D will help you.   Lost sales, pressure to meet deadlines, and errors due to  miscommunications can kill your profits if not eventually sink your business.  You need to react. 
The new age of furniture design
A few years ago a leading woodworking magazine wrote about using design software in the custom woodworking business.   They said "High quality 3D images in well presented proposal format are mandatory for businesses to compete…"  If that was true a few years ago imagine how important it is now.

More and more we are seeing people abandon the age old ways of pencil and paper for drawings.  You can join them.

This is what one user wrote in to us.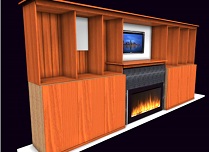 "I am sorry it took me so long to purchase your design software, but boy when I did, the business boomed! I've been using your cabinet design software now quite extensively. I have designed and quoted on 4 jobs in the first month of receiving it and have successfully won 3 of those jobs. The fourth one was actually put on hold because of the customers situation!" – John, Lansing, MI
You can begin creating your own designs in a matter of days – not weeks or months.  We will work with you to get your started on your first design.  We will meet you online and take you through a step by step introduction to SketchList 3D using your next client's job!  People tell us that approach keeps them from trial and error learning, watching many videos, and going through posts and manuals.   If you choose to buy SketchList 3D Pro you'll have already begun your first proposal.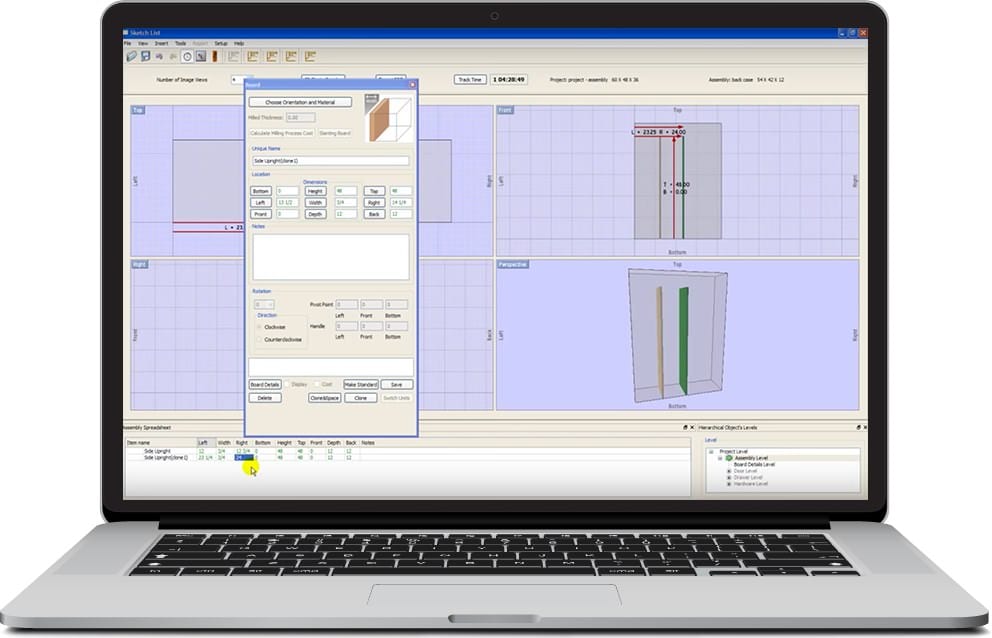 This cabinet Design Software saves you time and keeps you from making mistakes.
SketchList 3D users appreciate the reports and images, which they find helpful for sales.  After using our cabinet design software for a while they appreciate that building jobs 'virtually' enables them to spot mistakes.  As a result they make adjustments before they get to the lumberyard, shop, or worst case job site.  As a result of finding mistakes early they save time and money.

Accurate cabinet design software
Design in metric or imperial measuring systems.
Dimensions down to 1/64 inch or 1 mm
Perfectly align multiple objects in just a few mouse clicks
Clone and space feature – calculates exact board placement
Drag and snap features assure objects butt together as required.
Copy and paste location functions guaranteed correct placement of adjoining objects.

Woodworking Specific
Joinery added to boards with a few clicks of the mouse button.  Any board whose cut size is affected by joinery will show that change on the cut list. Therefore eliminating cutting errors.
Contours (for example roman, cove, bull nose) added by selecting board edge(s) and clicking on a button for a contour type.
Unlimited species, colors, and grains of materials because you can import any image you need for your design.

Integrated Reporting
Parts / cut list  – a complete list of all parts in the project with sizes and descriptions.
Shop drawings – dynamic shop drawings.  Any change in design size automatically reflects on the drawings.
Optimized layout diagram lays out sheet and board lumber to reduce scrap.
Purchase report – shows the amounts and cost of any materials required for the job.
Fully integrated design and reporting.  So any change to the design instantly reflects in all reports.
learn more about our products

Generate Interest
Build your brand using cabinet design software to generate high quality 'before' images to match up with competed 'after' photos of you job.
Use design images and drawings in social media to communicate to business partners, friends, and family.
Your designs become powerful marketing assets which help in future sales proposals.

Win Bids
Build trust and confidence early
Beautiful, professional-looking designs delight and reassure prospective customers you can do the job
Better communication provides a more engaging client experience

Save Time & Money
Cut proposal generation time in half with perfect accuracy
Accurate material costs and quantities
Layout optimizer reduces scrap
Quickly update design changes and adjustments for client approval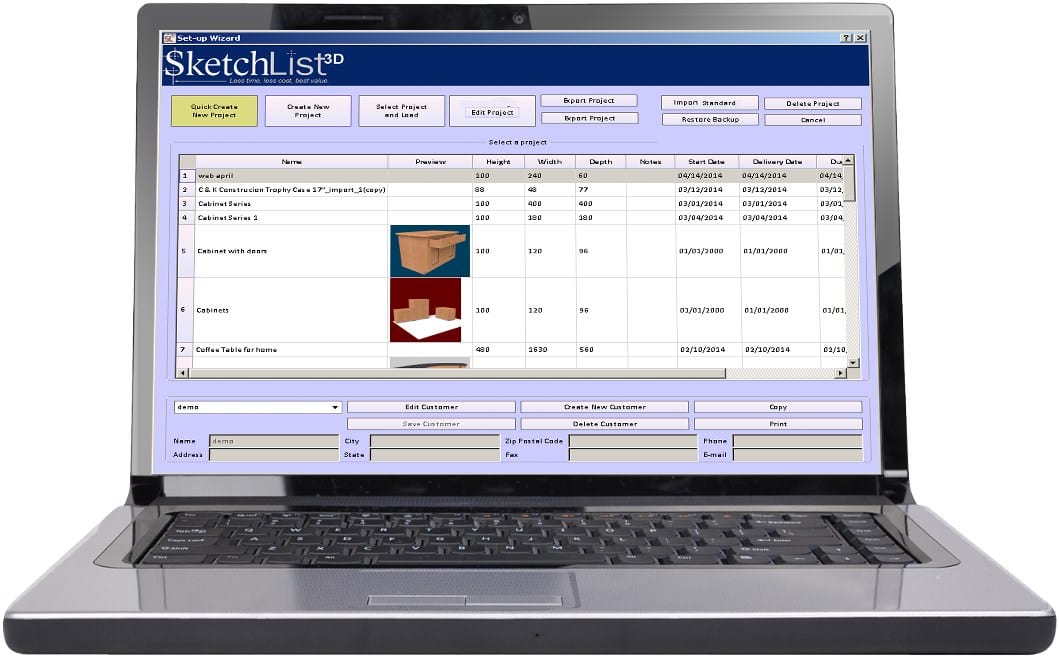 learn more about our value
Customers' Success

SketchList  is unbelievable!  I've use this cabinet design software package and it really pays off. 

Just the optimization of the cuts for the 4×8 sheets of plywood was worth the price.  Saving even a sheet now and then pays for the software. I give the local wood shop my cutting diagrams and have them do all of that for me. This was especially important as my small  shop didn't handle large 4×8 sheets easily. Feel free to use the photos I sent if you like as examples of what can be done with SketchList on a first try.

Mike Oldak

Our shop uses SketchList everyday, sometimes even directly with our customers standing over our shoulder.

Most of all we love the design features that are related just to woodworking and the photo backgrounds from clients are an amazing feature.

Furthermore we're  thinking of using the 3D PDF on a touch screen in our showroom.

Fred Eisis

I used your software for a wall unit for one of my clients.  Up to now we've done everything with pen and paper.  The 3D renderings absolutely blew them away.

In addition, your software guided me in a detailed technical discussion with the clients about their requirements.

Since that type of discussion sometimes uncovers requirements that affected the contract price — better to find out sooner than later.

Dan Longiaru.