January 21, 2015
Documentation Video – furniture design software
To to find help for SketchList 3D  – furniture design software
Sometimes I get emails asking the most basic of questions about SketchList 3D furniture design software.   I understand that when you are learning something new even things that appear basic to others might be confusing.   I've been working on a new series of videos and posts reviewing what I think is basic to quickly getting up to speed with SketchList 3D.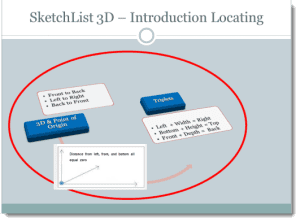 As I prepare the videos posts I try to make lists and outlines of subject matter that would help you get started minimum of time and effort.
Today as I started this post I realized I had some questions via email that needed answering.  As I reviewed those questions I was sure that they had been answered before. And of course many have.
There are dozens and dozens [and dozens] of videos on the SketchList website. There are also nearly 200 videos on YouTube about how to use SketchList 3-D furniture design software. One user wrote in and asked that somehow this all became organized. This is a great suggestion.
So off we go on the task of organizing.
1.  First step is to create a new section on www.SketchList.com dealing with tutorials on different aspects of learning  and using the software.
2.  The second is to create categories on the YouTube SketchList page to better organize them.
3.  What I find to be particularly helpful is a search either on the SketchList webpage or in you tube itself. You can do a search on something like "five panel door". And more often than not you'll come up with one or more videos showing you how to do that.
4.  One of the areas that I think may offer the best explanation and description of SketchList 3D usage is right under the  help menu there is a quick guide which covers most of what you need to know to get started in SketchList 3D.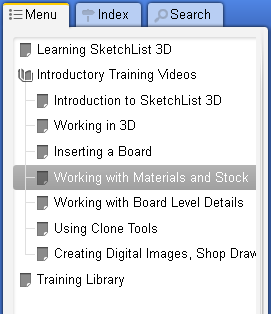 If you don't already have a copy of SketchList 3D and would like to see that tutorial just click here
Version 4 of SketchList 3D is evolving quickly – improvements being added every week – and it is impossible to retrofit the improvements to old videos. When we add a new feature, for example the red dots and blue dots for manipulating objects, we put out new video on YouTube.   And I create a blog post describing the new features and if you're on the mailing list you get a notification of that post.