August 26, 2015
Cabinet Design Software adds Interface
Announcing a CutList Plus direct interface from SketchList 3D Cabinet Design Software.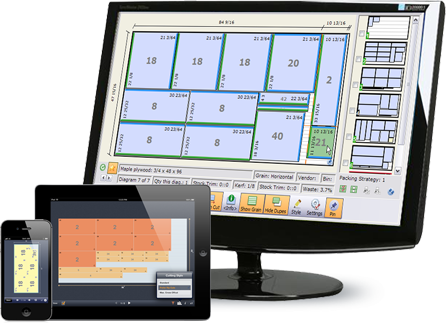 Several months ago some new SketchList 3D users wrote in asking how they might export parts data for input to their CutList Plus program.
CutList Plus is offered by Bridgewood Design (cutlistplus.com).  It generates optimized sheet layouts that allows you to make the most efficient use of your plywood panels and lumber. It also calculates how much material to buy for your project, and what it will cost.
Now being that SketchList 3D Shop and Pro versions already have an integrated optimizer I called these users to find out why they wouldn't just use the one they just bought as part of SketchList 3D.
A large part of the answer was they were used to CutList Plus and wanted to continue using that. OK. One guy liked the iPad reporting feature of CutList Plus and wanted to use his iPad in the shop.
In fact CutList Plus was the first woodworking software package I ever bought – maybe 15 years ago. I was designing on paper back then. I'd pull off a  parts list and key it into the form of CutList Plus.  Then I would get the material layout diagrams.  For some reason I only remember sheet goods – but my memory isn't what it once was.
I contacted Todd Peterson of Bridgewood Design and suggested an interface from SketchList 3D to CutList Plus. We agreed that it is a good idea so we did it.
On SketchList 3D the export function is under the report menu item.  For the time being it is labeled 'beta' since we may make some adjustments after we get some user response.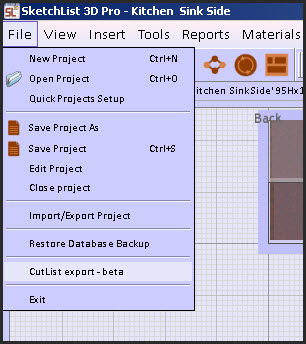 It will create a file and pass the data onto CutList Plus where it will be used for your layouts.
Support for this "Direct Integration" with SketchList 3D will be available in the Gold and Platinum Editions of CutList Plus fx 12.3 and later. (This is a free update for current Gold/Platinum fx customers.)  Check out their webpage for prices.
You will need Version 4 [Home, Shop or Pro] of SketchList 3D to use the direct data passing function.  This week's update will include this function.  In the live version the menu item label is CutList Plus – beta.
So if you use it please let us know how it works for you.  If you have questions or comments email me.
Dave