October 20, 2017
Cabinet design software in your woodworking business?
Cabinet Design Software – SketchList 3D – helps increase sales.
As a custom woodworker one of your most important tasks on any job is to transform and idea and present it to the potential customer.  Only when that prospect is confident that you 'get it' will you get the job.  Using cabinet design software improves your odds of success substantially.
Most  people we speak with about SketchList 3D currently  do drawings by hand.  Some use two-dimensional drawing programs.  And a smaller number pay designers to use software programs to do the work for them.
When we work with new users to help on designs we ask they send an image – any image.  Many times, they sketch something up quickly.
For example. …    Maybe they use a straight edge to sharpen things up a bit but some even submit hand drawings to prospects.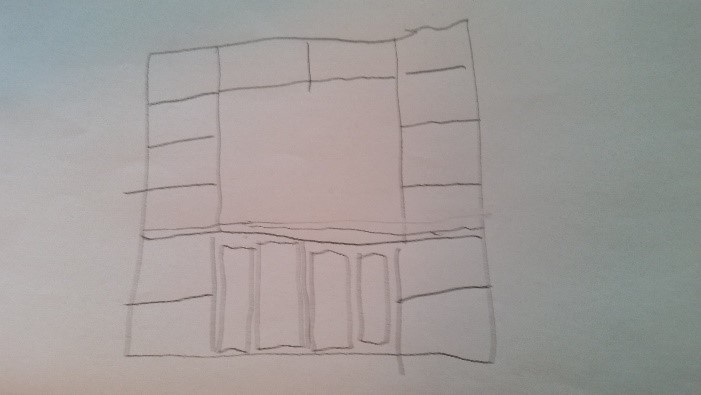 In our post example a designer created a dimensioned drawing for the woodworker to use in his proposal.  Much nicer of course.  The problem is two dimensions no longer meet the prospect's expectations.  Even the low cost big box stores provide 3D images.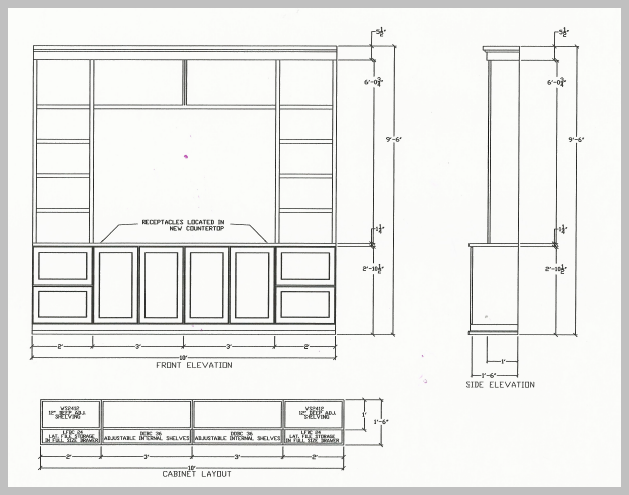 This is what our SketchList3D cabinet design software can do for you to help you win the job and manage its production.
Four reports will take your proposal a long way.  Take a look.
– Photo quality 3D images.
Create as many images as you want.  Use different views, different sizes, different lighting conditions and back ground colors.    The realism of 3D images, wood grain and tones, and lighting paint vivid pictures in your client's mind.  And that's important to your sale.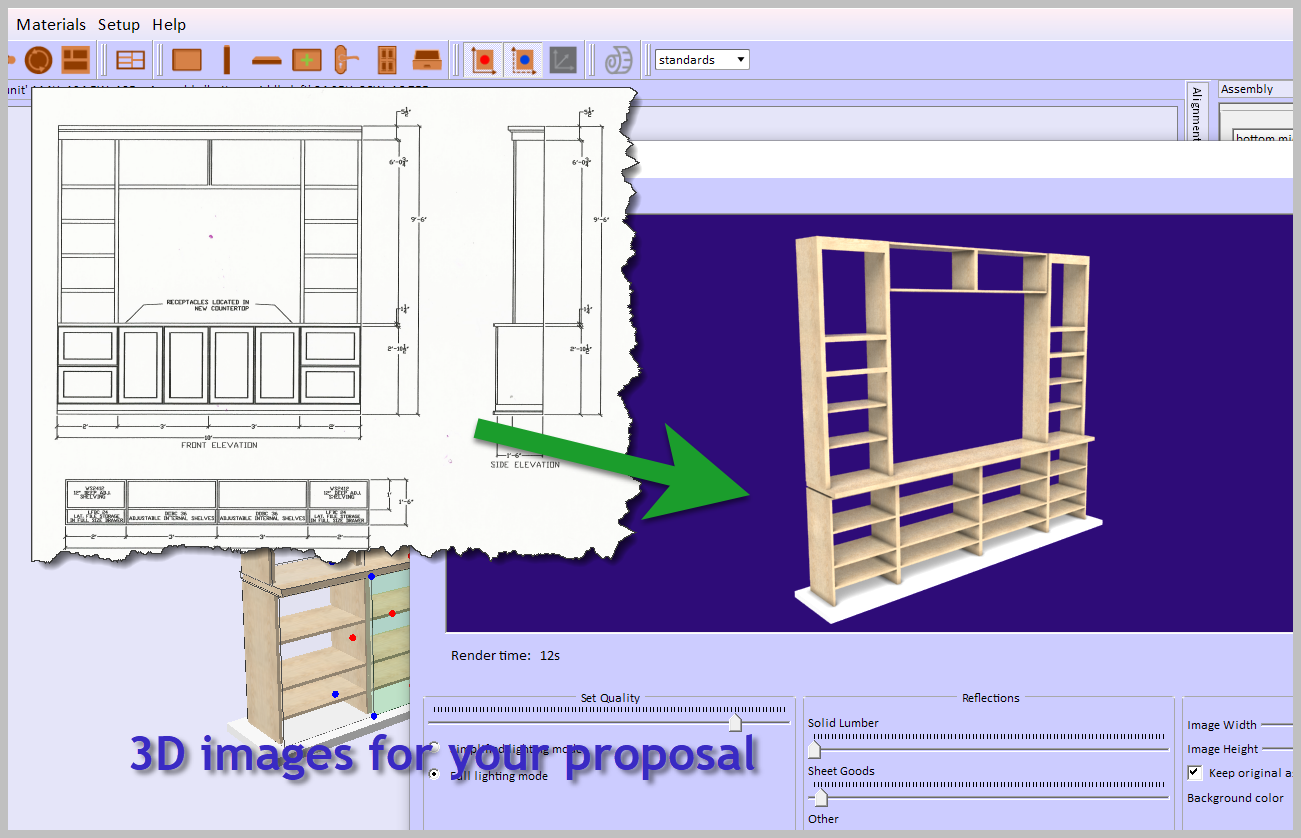 – SketchList 3D lays out material and  calculates costs for you.
In addition, the optimized layout diagrams show how to cut parts to minimize waste and save money.  You can either put that money in your pocket or use it to submit a lower cost bid.  Your choice.   Remember these automatic layout diagrams also save you the time it takes to do the layouts manually.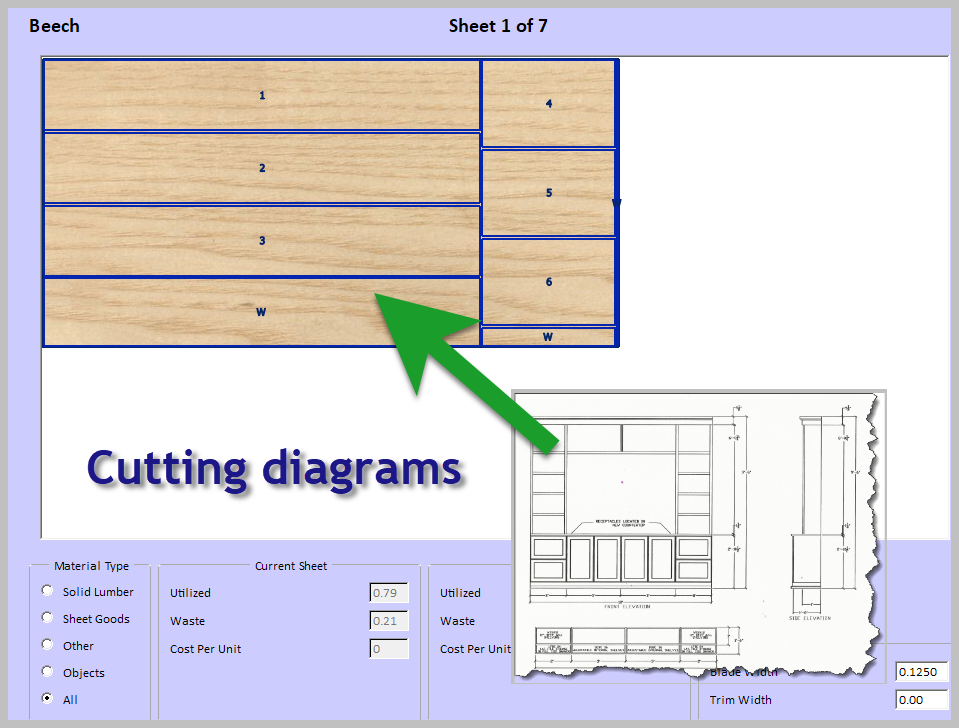 – Parts list / cutting list
Each time you add, delete, or change a part in your design that part changes instantly in the parts list / cutting diagram.  Having better control of the job in the shop and saving time pulling off a parts list mean money to you.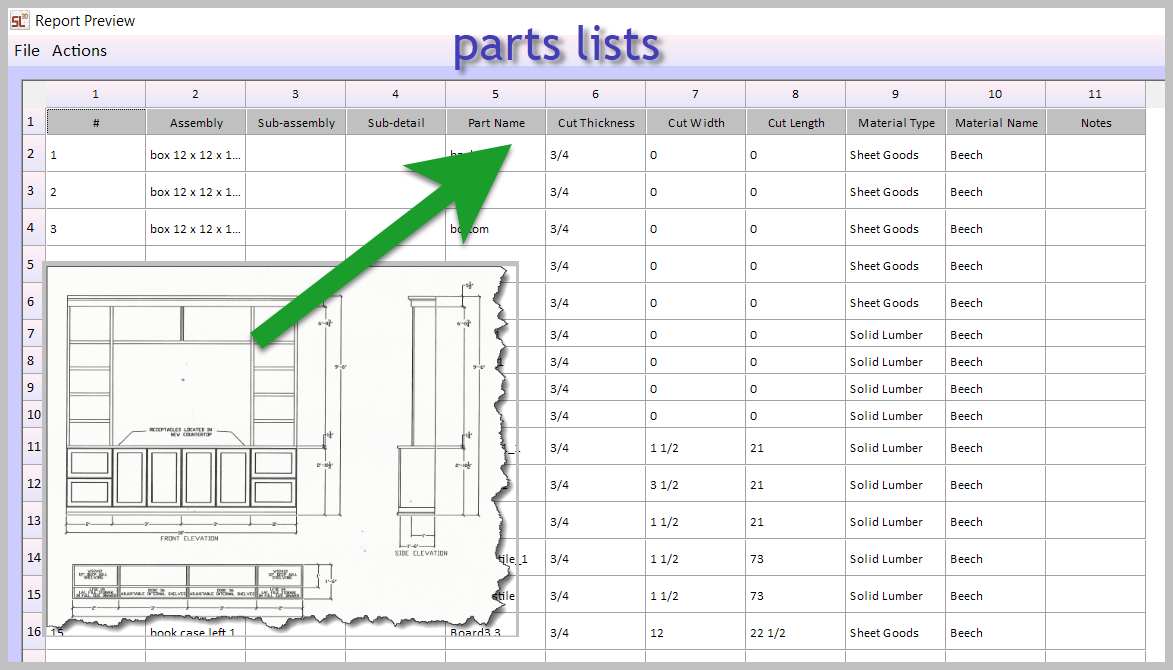 – Shop drawings
Finally, SketchList 3D produces dimensioned shop drawings from the design.  Because any change in the design immediately change in  the shop drawings the drawing is always current.  Neat and accurate drawings with  dimensions reduce mistakes, make communications more effective, and save time and money.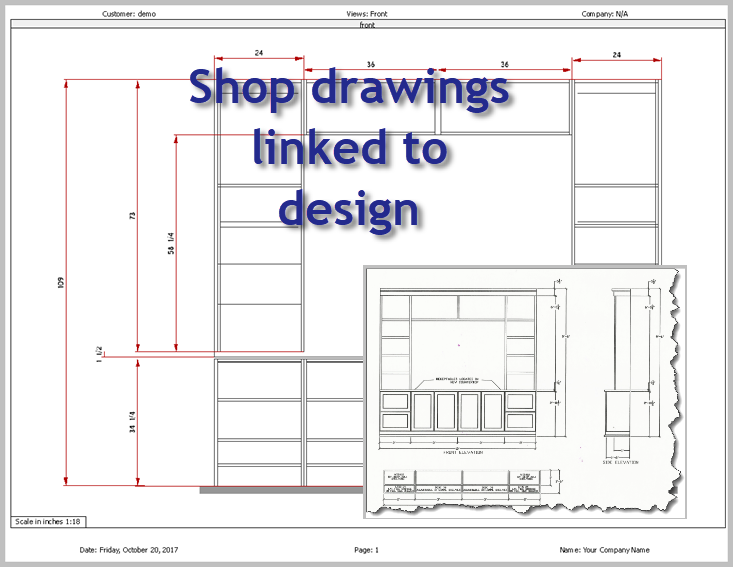 Cabinet Design Software does more than report.
While there isn't exactly a report for this – it is critical.  The ability to use cabinet design software and quickly create and modify designs to meet prospect's expectations means more business for you.  You can pitch ideas to the prospects, get their feedback, and make changes quickly and easily.   Problems, challenges, and mistakes are dealt with on the computer screen and not in the shop – or worse yet – on the job site.   You will show the prospects you are a professional in every way.
Can you do it?  Well really you must – and you can.  Each week we train more and more shop owners how to create their own designs.  You can become productive much sooner than you might expect.  Call or write in and we'll tell you how we will work with you to get you up and running faster than you ever may have expected.
Want more?  See this – CLICK.