September 16, 2015
Cabinet Design Software – Quick Introduction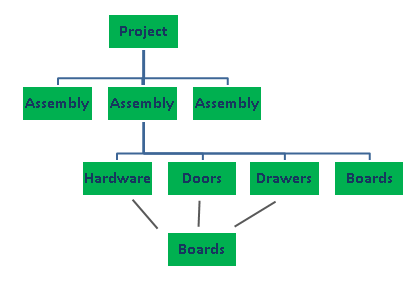 Last week I sent out a post with two links to instructional videos on SketchList 3D cabinet design software.  One was very long and I promised to break it into a series of shorted videos with more comments.  Cabinet design software functions best with tools that allow efficient use of assemblies in your designs.  That starts at the project level.
Project
The project is the overall container for your designs — everything including materials information are stored in the project.  This way you can easily exchange projects or move them from computer to computer by exporting and importing project files.  [Unless of course you implement our new shared database features!  Then all machines running SketchList 3D anywhere can share the same project file.]
This video explores the use of projects within SketchList 3D in a fair amount of detail.  From setting up a project, to understanding how assemblies fit and don't fit in — there is a lot of information on this video.   The video is about 4 minutes long and is a must see for new SketchList 3D users.  More experienced users want to review it as well since some of the thing I cover came from phone calls or email questions from users.
As always if you have any questions or comments PLEASE let me know.  If you find a mistake – help me fix it by describing and with the approximate time it shows up in the video.
This is the first installment.