October 3, 2018
Custom accessible kitchen design
Custom Accessible Kitchen Design – a new approach.
Over the years I've written about what custom means in woodworking.  The line blurs.  Do you buy doors or drawers and still sell custom jobs?  Anyway – I think I found an interesting custom example of custom.  In the accompanying video I use SketchList 3D as custom accessible kitchen design software to create a functional kitchen for anyone in a wheel chair.  Or at least I started!
Friends of mine bought a downsized house where all living spaces exist on the first floor.  Great idea.  As I visited,  my friend brought out a three step stool and started to climb to its top.  She wanted to get something from an upper cabinet.  Whoa!  So maybe buying a one level house isn't enough of a safety ove.  Maybe the very layout of the kitchen needs to be re-thought.
I did some research.  The American's Disability Act publishes online information about the required layouts, distances, and clearances for handicap access.  I'd rather read the tax code!   I found the web site InspectAPedia a very helpful source.  LINK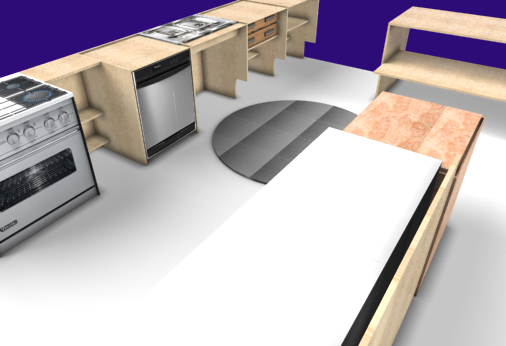 The Process
I began just laying out a bit of a u-shaped kitchen.  I knew that the cabinet heights should not exceed 32 inches.  But that was about all .  My first design positioned the stove so that someone sitting in a wheel chair could not access the back burners.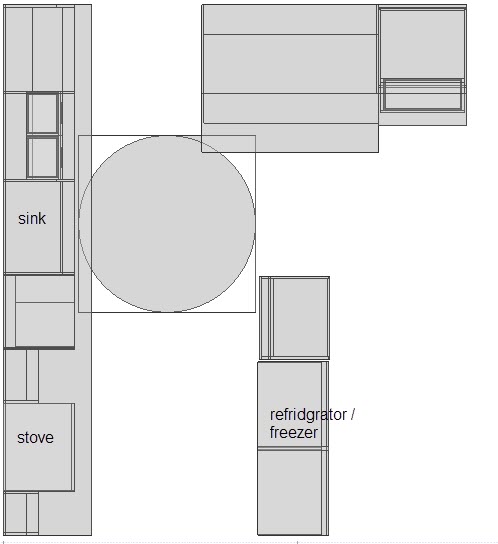 I moved the stove and placed two shallow shelving units on its sides.  This gives access to the back burners.
The sink needs no obstruction underneath it so someone in a chair has full access for washing.  The dishwasher is right next to the sink.
Starting with a full height refrigerator but replacing them with lower the drawer types refrigerator and freezer improved access.
Storage shelves act as pull out drawers providing access to the back of the shelf.  Note the kicks are either 9 high and 6 deep for wheelchair clearance.  Power wheel chairs require more height – 16 inches.
A last minute adjustment dealt with not enough clearance for maneuvering a wheelchair.  The round rug like shape has a diameter of 60 inches.  That is the required/suggested clearances.  In SketchList 3D I made the shape and dragged it between the cabinets.  this pointed out the places where cabinets needed to moving.
See the video here.

If you have any questions or comments please post them.