April 16, 2021
Everything To Know (And Love) About SketchList Version 5!
Woodworking Software For the People, By the People
SketchList Version 5 is now a reality, thanks to the support from our loyal community of woodworkers. After listening to feedback from our users, we pinpointed ways that we could improve the SketchList experience. Our goal was to make the most user-friendly, easy-to-use woodworking software. 
We decided to launch a Kickstarter campaign to fund additional programmers to speed up the development of this new version, and what happened next blew us away. After just four days of starting our Kickstarter, we nearly doubled our initial goal! As we saw backers pour in, we realized that our fellow woodworkers were just as excited as we were about our new product ideas. This funding gave us the ability to start making Version 5 the best yet.  And now we have it. On March 1st, we launched V5 as an upgrade for our current users. And the official worldwide launch of SketchList Version 5 followed on April 1st, 2021! This means anyone can now purchase our newest software package.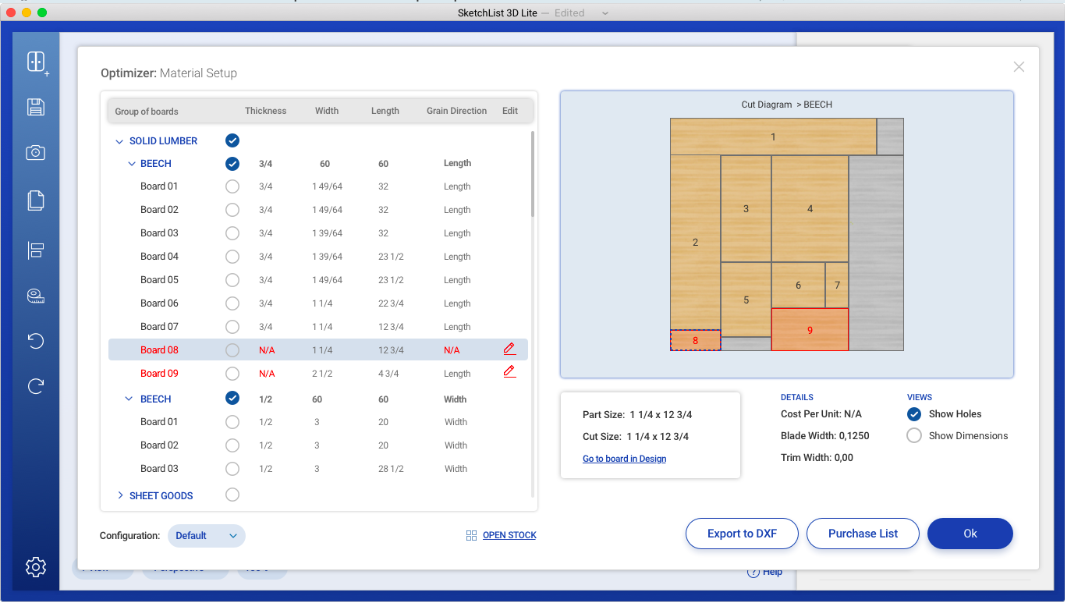 Welcome to the Future of Woodworking!
If you are a current SketchList user, you are already familiar with our catalog of features. If you are new to SketchList, welcome! You are entering a collaborative community of international woodworkers who prefer to spend their time running their business or conceptualizing new innovative wood designs rather than spending endless hours designing with pen and paper. Woodworkers use our software to visualize complete designs in three dimensions.  With those detailed plans, they save time and money when purchasing materials.
SketchList is perfect for creating virtual plans for cabinets, furniture, kitchen projects, and more. Just by entering the dimensions and desired materials for the models, SketchList automatically generates the layout, spreadsheets, drawings, cut lists, and reports needed. 
Our software allows users to:
Generate high-quality 3D models quickly

Create and use standard objects

Run standard and custom reports

Spot and avoid mistakes

Save project time and money

Accurately purchase and cut materials

Design marketing and business materials

Save client and business information
The good news is that all of these capabilities still exist in V5. The best part about Version 5 is that you will not be compromising any of these current software capabilities. Instead, you'll be able to accomplish all of these tasks more quickly, accurately, and efficiently. 
Version 5: Our Most User-Friendly Woodworking Software Ever!
To create Version 5, our dedicated designers studied the processes and flow of SketchList usage to identify areas where we could remove steps and make the workflow more intuitive and smooth. One of the first things you'll notice when using V5 is that the flow and structure are highly consistent. For example, once you learn how to add a board to an assembly, you will see that the steps for adding elements like hardware, doors, or drawers are nearly the same. There are only three design tools you'll need to learn before you'll be able to insert objects, size them and locate them properly. And you can learn to use them in minutes.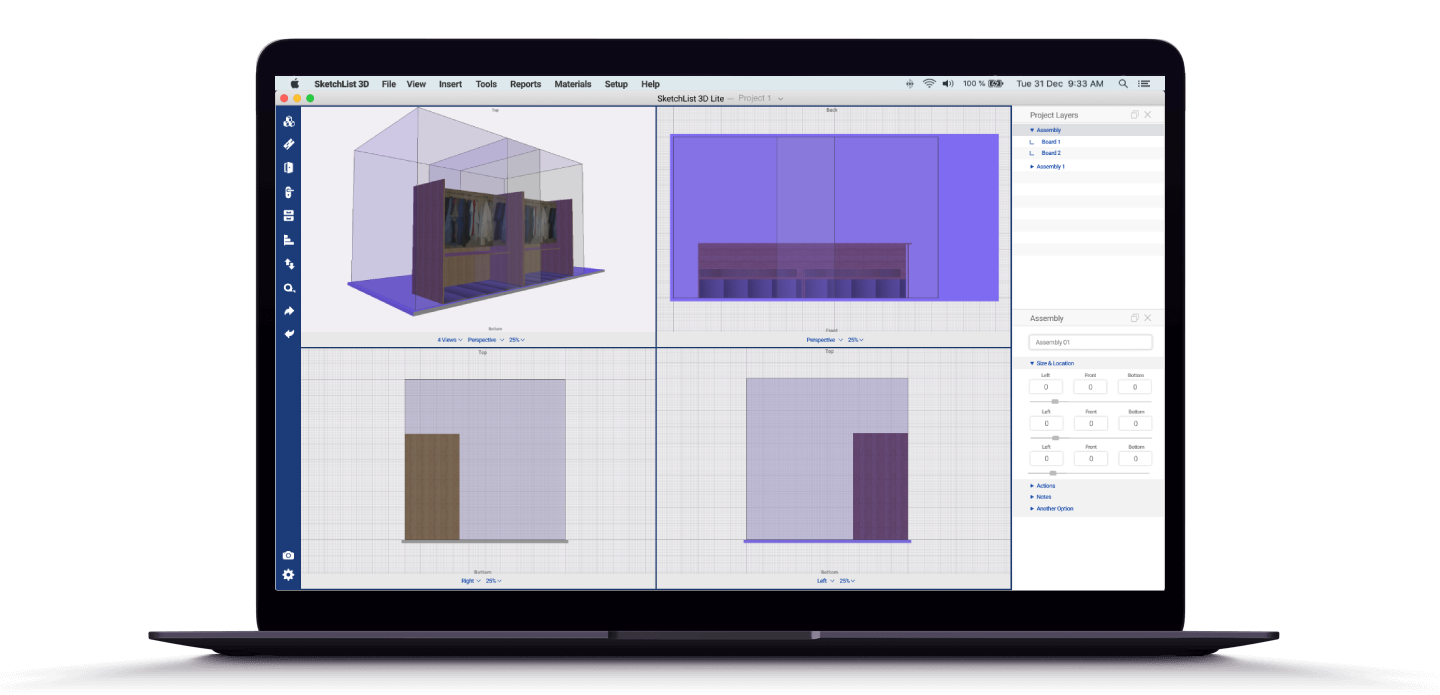 The biggest enhancements to expect from this new iteration are:
Easy to use app navigation

Fewer steps and forms to get to your final product quickly

An improved templates library

One-click object cloning and spacing

Precise shape and object edition (adding contours, holes, and lines)

Dynamic material lists with precise measurements, textures, scale, and opacity

Easy to read and understand buttons.

Hierarchy of elements to help naturally guide you through the flow

More realistic project renderings, object visuals, illustrations, & project previews

Customizable interface, side panels, and project views

An overhaul of

Cabinet Wizard

, our popular cabinet creation software
With these updates, you can create a simple design, produce a custom report, or even generate a life-like 3D rendering with just a few clicks.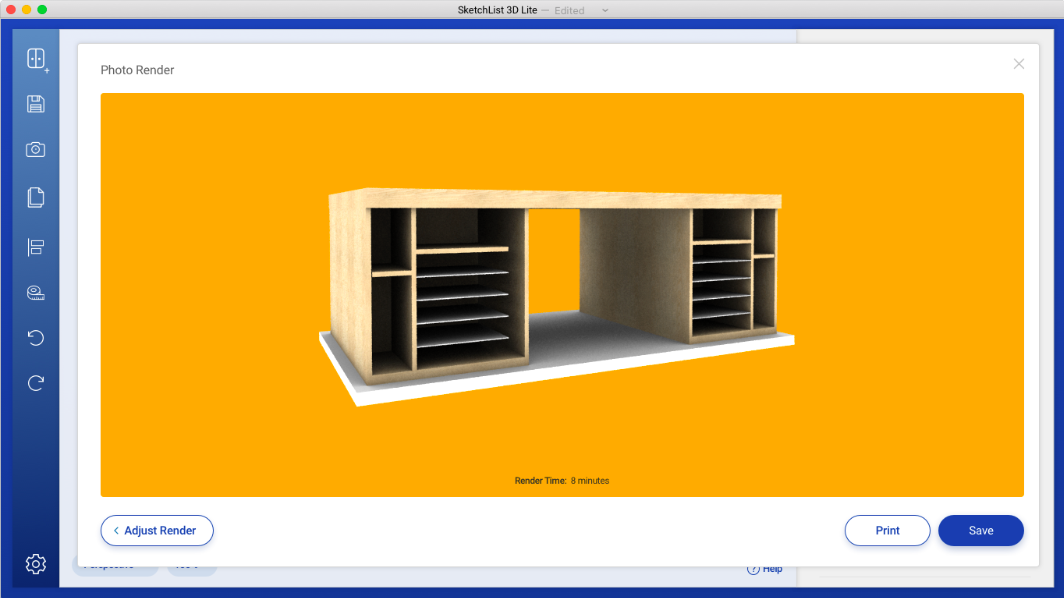 Version 5: The Sharpest Tool in Your Toolbox
There are a few product options to choose from when purchasing V5, so we want to take the opportunity to help you find the best one for your woodworking needs. Read on!
As always, we will have two levels of the software, SketchList 3D Pro V5 (for both Mac and Windows) and SketchList 3D Hobby V5 (also for both Mac and Windows). SketchList 3D Pro is for professional woodworkers, businesses, and high-end home craftsmen and women. As a Pro user, you will have access to all V5 features, utilities, and capabilities. Another great benefit of purchasing V5 Pro is that you will receive two user keys for the price of one.
SketchList 3D Hobby, on the other hand, is perfect for the casual user of woodworking and kitchen design software. Note that all design capabilities found in SketchList 3D Pro are also included in this version. But there are some limitations to the number of features and reports you can access as a Hobby user. With both Hobby and Pro, you will be able to produce stunning designs, reports, marketing materials, and more.
What's Next?
Once you have decided which version is best, you can purchase it in our online store. Notice that if you already own a former SketchList version, you can upgrade your current version (which comes at a heavily discounted rate). If you need assistance with any of this, please do not hesitate to reach out. The only thing we love more than talking about woodworking is talking about V5!
Then, once you have your SketchList Version 5 downloaded and humming away, you're not on your own! We have several resources to help jump-start your experience with V5. Check out the tutorial videos on the SketchList website and our YouTube page. You'll find that most of our videos focus on Version 5 (did I mention we were obsessed?). We also host weekly meetings where our founder walks you through the ins and outs of our new software iteration. And remember, all of our resources are entirely free and designed for both hobbyists and pros alike. 
This story ends right where it began — thanking our loyal supporters who helped make Version 5 what it is today. And just like we appreciate your support, we also appreciate your feedback, so don't hesitate to let us know what you love or would change about V5. We're always listening! 
And as always, happy woodworking!