January 9, 2020
Kitchen design with cabinet design software – you must be able to do it
Kitchen design is an overwhelming phrase.
For custom cabinet makers it encompasses not only the layout but the details of the cabinet design and construction.    Nothing new.  What is new – or at least newer – is the day of the hand-drawn pictures for your proposals are pretty much over.   Prospects are demanding high-quality images of the kitchen design they are committing to buy.   When I started SketchList nearly ten years ago that wasn't the case.  Those were the days of hand sketches, or better yet – the contractor saying 'trust me – I know what you want'.  No more.  Every week more and more woodworking business owners are converting to computer-drawn images to help their sales efforts.
In fact, in our business, the busiest times of the week are spent talking to new buyers of our cabinet design software on the weekend.  Why? 1.  Well, that's when people have time out of the shop.  2. And – wait for it – that's when we hear "I got to get this proposal out by Monday!"  No kidding.
So how do you learn and use cabinet design software to enable you to submit a kitchen design proposal "by Monday"?    Pick the right cabinet software.  What's that?
Well, it's one that you can use to create custom cabinets that fit into your kitchen design easily and quickly.   How much time does it take to learn?  I need it by Monday?  It's not impossible.
This need is why I developed the Cabinet Wizard.
With the Cabinet Wizard cabinet software, you pick a cabinet from a list of ten available models.  And then you answer a series of questions like "How wide are your rails?'   Click the move to SketchList 3D button and locate the cabinet in your kitchen design.  Next cabinet.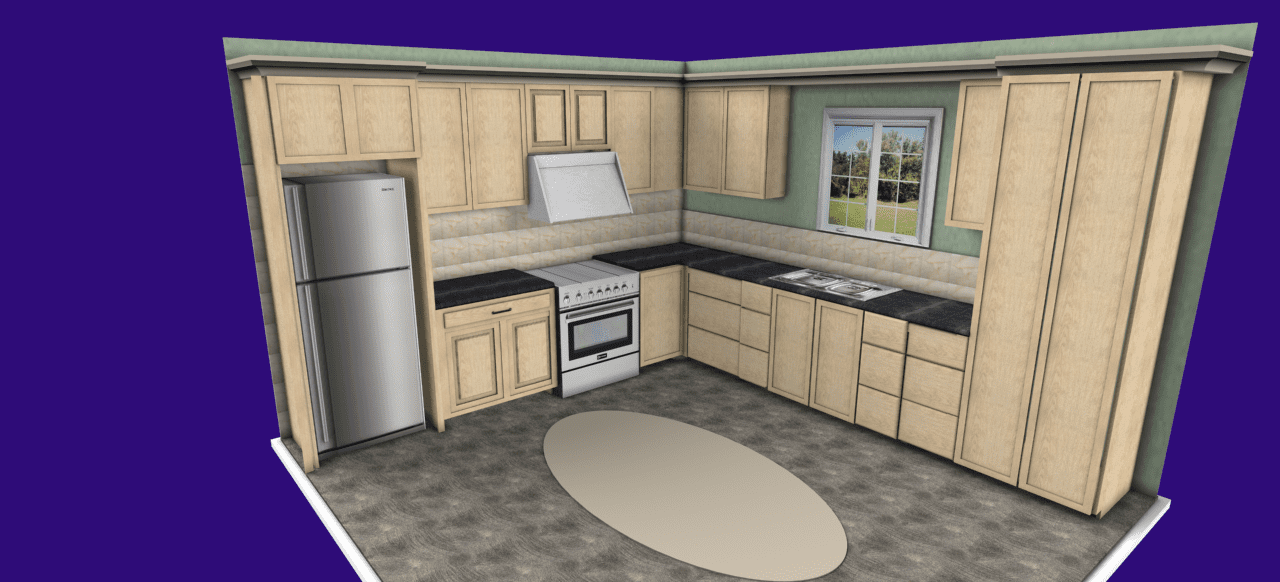 The kitchen design above was created with the Cabinet Wizard with appliances from the SketchList 3D Appliance library.  Ready for Monday's proposal!
After your kitchen design is complete – do some shop drawings.  Usually, people want a floor plan and evaluation.    And create a series of high quality – photo-like images to sell your job.   With a deposit check in hand, run your cut list, optimized sheet goods layout diagrams, and your purchase report.
You can look here to see more about how the Cabinet Wizard works.    Maybe you want some free kitchen design software basics?  See this.