August 5, 2014
Woodworking Design Software – Insert boards
Some users struggle with the concept of orientation in our carpentry design software…
So we changed it!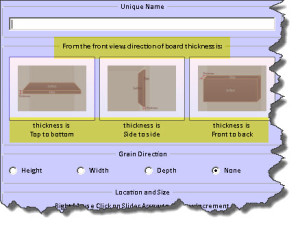 In SketchList 3D wood design software we use the concept of orientation to help SketchList 3D map boards onto the materials from which they will be cut.   The other reason we use orientation is to help change the dimension names (height, width, length, depth) as necessary to better describe your design.   But while some users grasp the orientation idea right off – others do not.
So we had another thought about this and ran some tests.  All the optimizer needs is to know the grain direction of your part and the grain direction of your material and it can figure out how to optimize the parts and materials.   To help the optimizer pick out the correct material when you insert a new board we do ask you to identify which of the three possible dimensions is the thickness of the board.  It;s not too hard to grasp which side or edge is thickness – at least tests with users show that it's not.
The Windows version of SketchList 3D with this new approach at new boards can be found at:
If you download and install this new code  – you will be asked if you want to keep your existing database or over-write it.  For goodness sake pick the correct option for yourself!
If you ever decide you want your old SketchList 3D back – simply reinstall the copy you downloaded when you first installed.
As users of the new form begin to respond, assuming more positive responses are coming, we will move this new form to the Mac.
If you do install the new version please let me know what you think of it.  Any questions – contact me directly.
Thanks
Dave